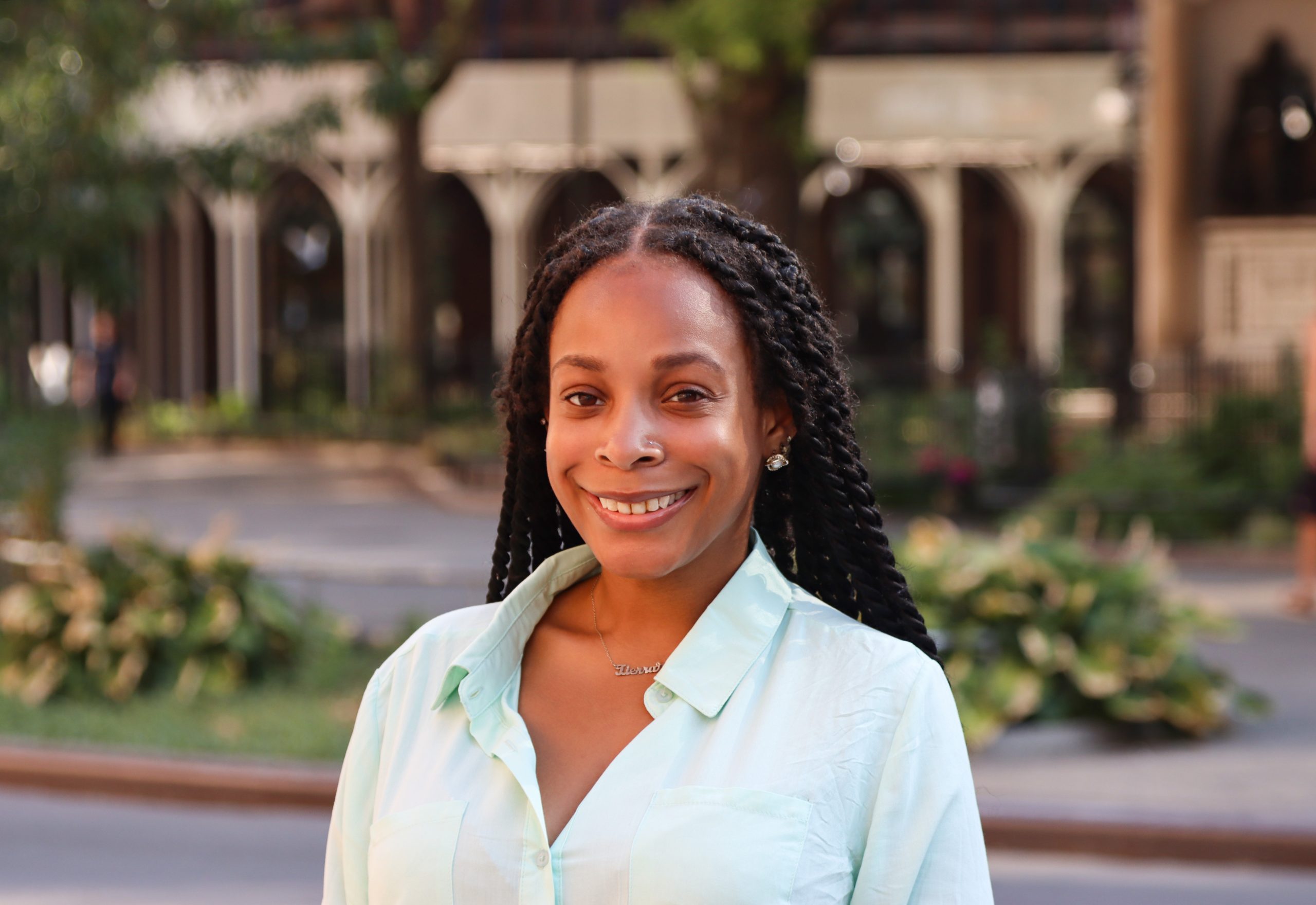 "Non-profit work honestly found me," said Tierra Gunther. "And we make a good pair. It felt very natural when I first started."
Partnerships Manager Tierra Gunther is known by her coworkers for constantly going the extra mile for HFH families. Her supervisor, Senior Director of Operations Annamaria Santoro, said Tierra has a go-getter mentality and wears her heart on her sleeve when it comes to work.
"Tierra's someone who really cares about the work she does," said Annamaria. "She's invested in the mission of HFH and making sure that kids are enjoying programming. She wears her heart on her sleeve when it comes to work, because she cares a lot."
"I enjoy going to special events and seeing the reactions of parents and families," Tierra explained. "It motivates me. I've learned a lot about homelessness since joining HFH, and I'm always trying to figure out the best way to help families."
Tierra has been with HFH for nearly five years, starting as a Partnerships Associate and working her way up to Partnerships Manager. Prior to HFH, she worked at nonprofit Harlem Children's Zone, working more closely with students in their classrooms compared to her more operational roles at HFH.
As Partnerships Manager, Tierra serves as the liaison for partnerships, volunteers, and shelter programming for both children and adults. She helps schedule and coordinate events and works with donors and administrative staff to ensure HFH sites have the supplemental resources they need to provide families with not just necessities. She also helps coordinate professional development opportunities for program staff, ensuring they meet all the state requirements embedded in their roles.
Much of Tierra's role consists of dealing with outreach from external organizations and volunteers and making sure the potential partner and the current needs of HFH families are a good match; sometimes the timing isn't right, or the donation might be a better fit for another nonprofit. Tierra is always quick to recommend others in our network who could benefit from the partner if HFH can't take advantage of a particular volunteer activity or donation.
"Families want to feel appreciated; they want to feel like someone truly cares for them. Being that our families are in temporary housing, their needs change. In January, they could need more food pantry items, and in March they may need more diapers. It's nice to see families so overwhelmed with care when we get them something they need," she said. "If we're getting a donation, we want to make sure our families will see it as a gift of care and love. I look for donors who are really trying to do something nice for those who need it."
Tierra also works to provide HFH families, especially their children, with new and exciting experiences. These can be as small as trying a new brand of ice cream and as large as going to sleepaway camp for the first time.
"At the carnival [at HFH Summer Camps], the staff served Ben and Jerry's ice cream, and one of the kids expressed excitement because they'd never had Ben and Jerry's before. Those things push us to make sure that we always have something for families," she said. "Camp is also fun, seeing the kids get excited to go to camp and love it, having never been to a sleepaway camp before, giving them those experiences they've never had. We want to remind the kids constantly that they might be in a situation right now where you're living in a place you're not used to, and even though they're here temporarily, we still want them to be able to build a positive experience and create memories."
Jon Dorfman, founder of KidCare, a longtime collaborator with HFH, said Tierra is "beyond a pleasure to work with," noting her attention to detail, proactiveness, and creativity.
"Her genuine care for the kids shows through on everything she does from planning activities to forging corporate partnerships," Jon said. "We at KidCare are beyond appreciative of Tierra and look forward to working with her for many years to come!"
Tierra looks forward to building her skills as she continues to thrive in her role, noting that "there's always something to learn here. I think every year I'm learning something different, and it helps build up my skill level here. Right now, I know there's still things I need to learn, networking I need to do, skills I need to build on. I think with time that'll happen. I'm very open minded."
Though her job can be busy, Tierra enjoys spending her free time trying new restaurants, reading, watching TV, and spending time with friends and family.