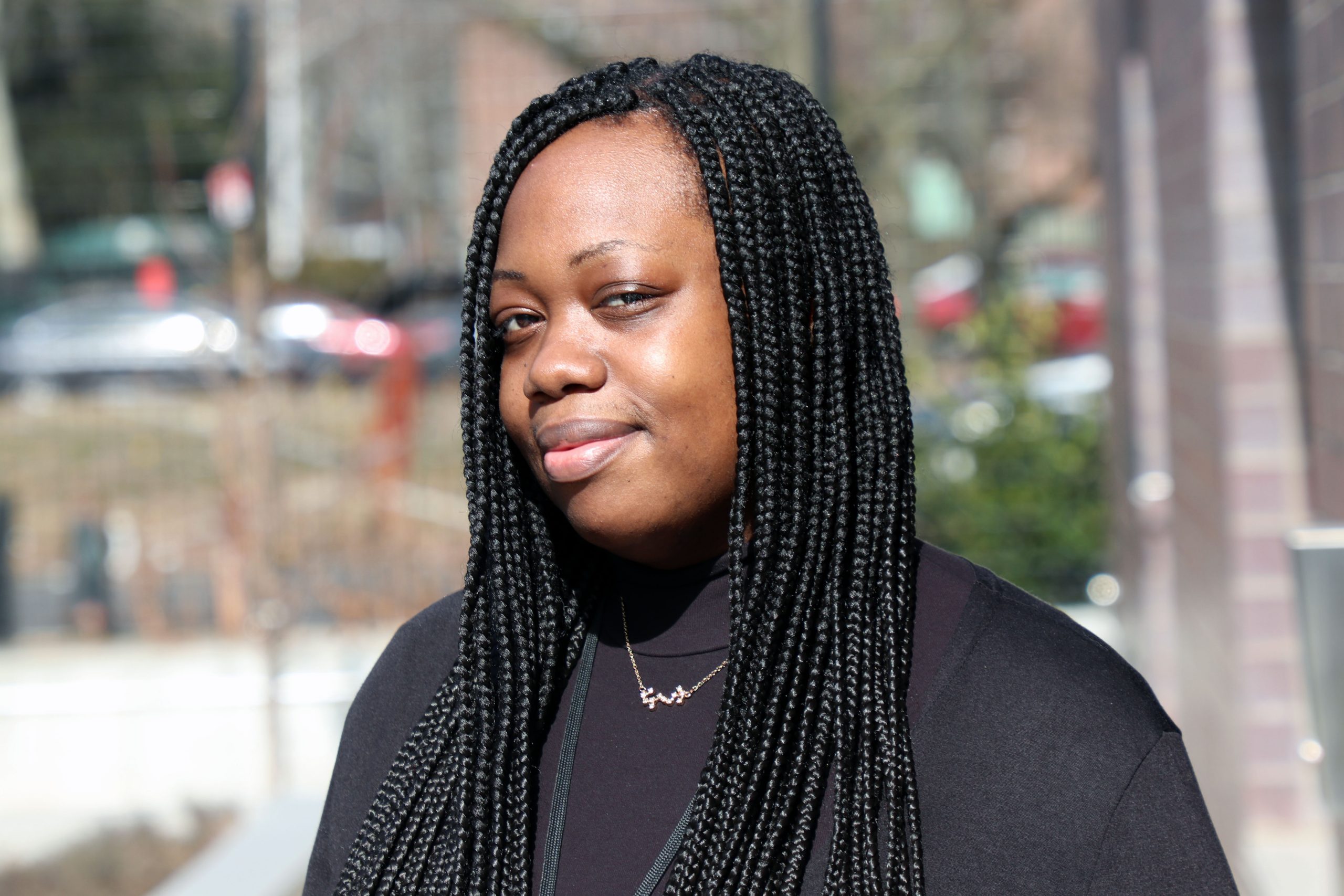 Charima Thompson began her professional journey at HFH working at Prospect Family Residence in the safety department. After five years in safety—starting as a Safety Aide and then receiving a promotion to Safety Supervisor—she decided to chase her aspirations and apply to a position as a Housing Specialist at HFH's newest site, Allie's Place.
The reason for the switch? "I had to go back to my roots to when I was in foster care, and I thought about what I wanted to do, and I love to help people. So being a part of the reason why people are able to have somewhere to call home now is important to me," she said.
"During her time at HFH she has shown a great deal of hard work, is a quick learner, and has grown within her duties," commented Julissa Lantigua, Administrator of Allie's Place. "She is a team player and is empathetic towards her clients."
Thompson reflected on her new role, which began in August 2021. "When I get compliments from the clients or even just from people that work in the building … when I hear the feedback it shows me that I need to keep doing what I'm doing," Thompson added.
As a Housing Specialist, Thompson is responsible for assisting shelter residents who are temporarily staying at the shelter in the Soundview neighborhood of the Bronx in finding more stable housing for their families. While serving as a safety officer, she was in charge of intake for HFH shelter clients. Now, she's on the opposite end of things.
"I went from signing you in to signing you out, basically. I remember my first client since I've been in this new position," Thompson said, "I did her intake when she first came into shelter, and now I'm doing her outtake when she's leaving."
Thompson is incredibly passionate about what she does. Having grown up in foster care, she sees this job as an opportunity to give back to others experiencing similar hardships that she faced in the past. "A big part of what I do is to give people the same opportunities that I had or the opportunities that I feel like I didn't have. To be able to be that person is great," Thompson added.
Gretchen Hernandez is Deputy Executive Director at HFH and witnessed Thompson's professional growth first-hand when she served as administrator of the two shelters where Thompson worked. "It has been a great joy to see Charima through her journey. I admire her tenacious attitude. It has helped her to achieve her goals and continue to grow in her professional career. I predict that Charima will continue to excel in anything that she puts her mind to," Hernandez said.
And what does Thompson intend to put her mind to next? "I'm going to start school in the fall," she shared. "I applied to study sociology and get my associate's. Once I'm done with that, I want to get my bachelor's degree in psychology. I still want to stay within that field of assisting people."
However, Thompson's loyalty remains to HFH. She intends to go to school while continuing her role as a Housing Specialist. She attributes her ability to achieve great professional success to the organization. "I love HFH overall. I feel like they give you a lot of great opportunities, and if you do it right, you can go far," said Thompson.
Since this article's publication, Charima Thompson has been promoted to Family Services Supervisor at Allie's Place.