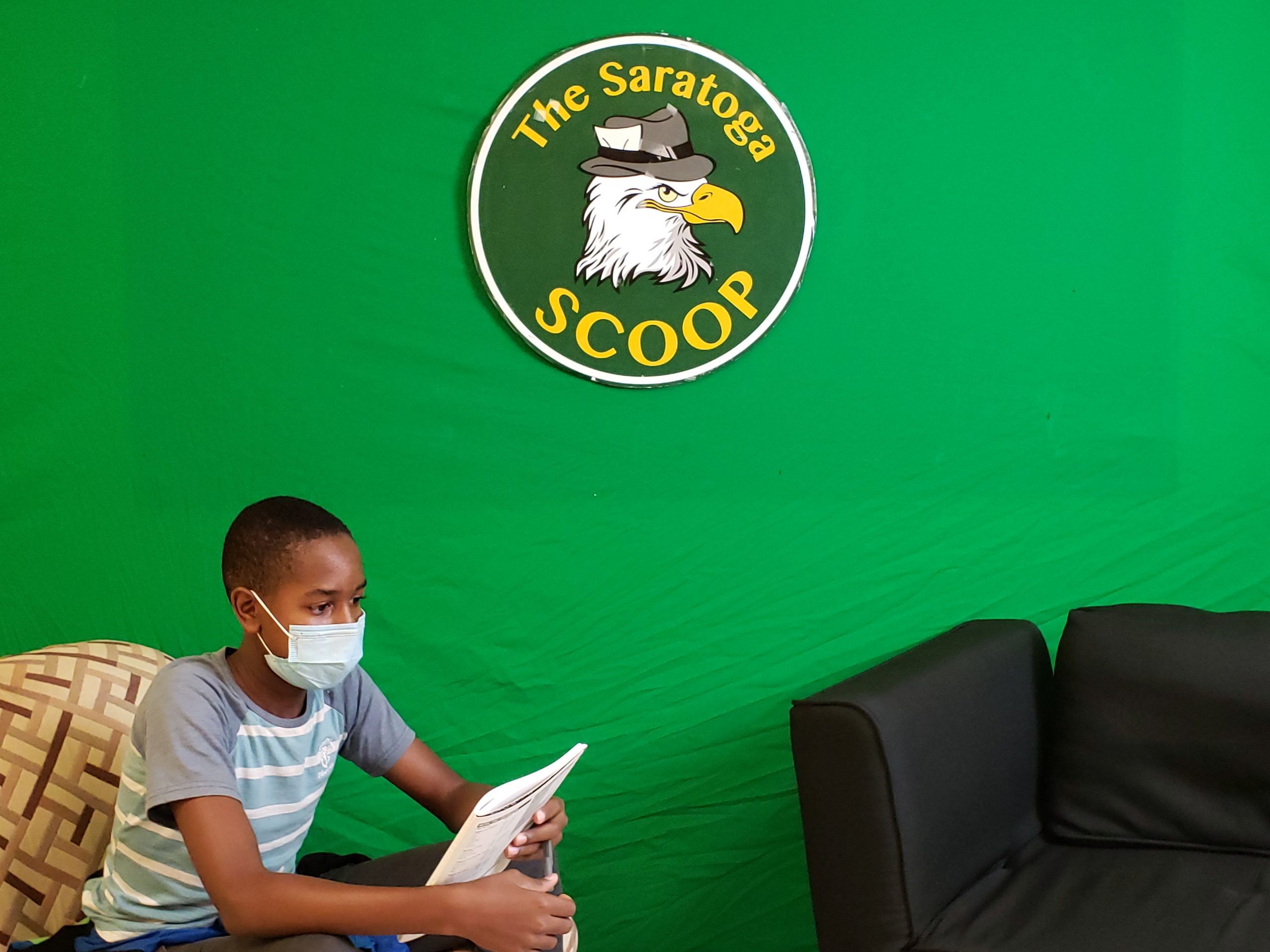 "Afterschool has helped me through this pandemic by helping me to push through. I didn't have as many opportunities [due to the pandemic], but it helped me to work harder and get more."
The Saratoga Scoop is an in-house Communications Club that produces publications, videos, interviews, and insights into the latest events and activities at Saratoga Family Residence. The Scoop is reported, written, and produced by Saratoga's resident programming experts, the Saratoga Eagles, who are students enrolled in Saratoga's K-12 Afterschool & Recreation program.
Like journalists around the country, the Saratoga Scoop's budding reporters have rapidly adapted their operations during the COVID-19 pandemic to best serve the needs of their community. Recently, reporters for the Saratoga Scoop conducted a series of interviews with their fellow Eagles about their favorite activities at Afterschool, living at Saratoga during the pandemic, and their experiences with in-person learning.
Tomas, 12, the President of Saratoga's Youth Council, which encourages student input and engagement in programming, led several interview sessions in front of Saratoga's green screen.
"I like Afterschool, because there are a lot of cool kids here that I can associate with," one Saratoga student explained. "There are fun kids to be around and we can play in the recreation center and on the computer. There are just cool people and that's one of my favorite things about Afterschool."
Alanell, 11, the Vice President of Saratoga's Student Council and a member of Saratoga's award-winning LEGO team, expressed her gratitude for the responsibility her position on the Youth Council provided her: "It's really a big privilege to be Vice President. I've learned how to grow, how to be strong, show my voice, and be big."
Angelica, 11, an avid dancer and Co-Captain of the LEGO team, said that being in Afterschool has helped her to "push through" the challenges presented by the COVID-19 pandemic. "I didn't have as many opportunities [during the pandemic]," she said. "But [afterschool] helped me to work harder to get more."
"With COVID, things are getting better, but it seems like the cases are going up again. I just want everyone to stay safe and blessed."
At the time of her interview, Chrystel, 13, had just begun a hybrid schedule of in-person classes on Thursdays and Fridays at her NYC school.
"It's been good to go [in-person] because it helps you understand better what you don't understand remotely," she said of in-person classes, noting that at times her teachers don't explain concepts as well during remote learning and students can't see something explained "the way they'd want to."
"If you're a person that struggles with math, you can go to a teacher and ask them in-person," she said. "Then maybe at lunch time, you can go to him or her and ask them to help you out."
After chatting about her in-school experience with Tomas, Chrystel pivoted towards another topic.
"Living in Saratoga for me has had its ups and downs, personally and emotionally and physically, too," she said. "Sometimes I just want to go out and have fun with my friends and have sleepovers, for example."
Chrystel said that despite these challenges, she believed that "things happen for a reason" and that "better things are coming."
"I'm going to leave [Saratoga] soon, but at the same time, I'm thankful, because I have somewhere to sleep; somewhere to stay," she said. "I've met a lot of people; I've had a lot of opportunities."
Chrystel is a young playwright who participated in Writopia Lab's 2020 Worldwide Plays Festival. Due to the COVID-19 pandemic, her play Kidnapping was produced by group of NYC theater professionals as a podcast, in lieu of a live performance.
"I had never seen myself making plays or writing…But I've seen my potential in writing. A lot of people have always told me that I'm a good writer; that I write inspirationally," she said. "It's just something that I like to do, because sometimes I'm better at writing than talking. So, I get to express my feelings more through writing than talking; and the more I write, the deeper it gets and the more feelings I get off my chest. So, I'm also thankful for that."