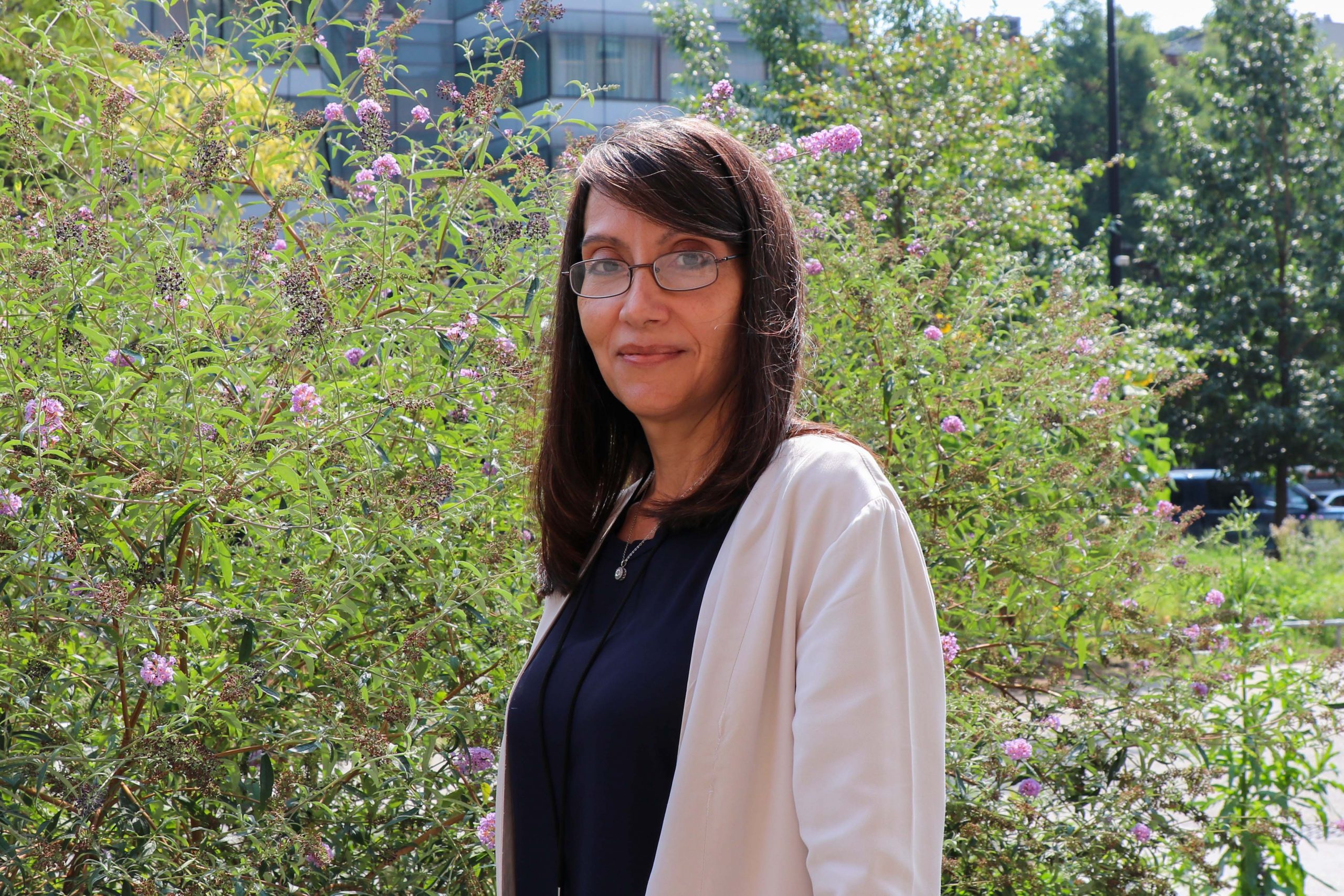 Annette Delgado, Office Manager at HFH's Central Office, is the person behind the scenes making sure that the office runs smoothly—and she does so while keeping her coworkers' spirits high.
John Greenwood, Executive Director of HFH, who has worked with Annette for 10 years said, "She knows so much about the history of the agency, how things work at the Central Office, who to talk to, who does what, and I have really seen her grow into a Central Office leader."
Prior to HFH, Annette worked in childcare and as a receptionist. Her interpersonal skills, coupled with having grown up in a family that valued helping others, is what drew her to HFH's mission of aiding families experiencing homelessness. As office manager, Annette wears many hats—supervising and supporting staff, keeping the office in order, and juggling projects. Part of her role is answering calls, including those from people seeking shelter and resources, and connecting with these people is one of the highlights of her job.
"You get calls from families who are being evicted, who have never been in that position, and who are afraid, and you are on the other end," said Annette. "You have to be able to not just provide information but also comfort them and let them know that they are not alone and that there is help out there for them."
Annette extends the same compassion to her coworkers, who note her consideration for their well-being and their lives inside and outside of work.
"It has been a pleasure working with Annette over the years. She has been a constant in this office," said Desiree Sanabria, Payroll Manager at HFH, who has worked alongside Annette since Annette started her career with HFH. "She has seen my kids and my grandkids grow up, and she has always been attentive to asking, 'How are the children?', 'How's the family?'"
Linda Bazerjian, Managing Director of Communications, shared a similar sentiment, noting that Annette is all about creating an atmosphere where staff want to come to work.
"Annette is that person around the office who thinks about the little things, like keeping track of birthdays and getting everyone to sign a card," said Linda, who has worked with Annette for 13 years. "The first year I worked here, we bonded over the Halloween decorations at her desk and as another Halloween approaches, I can't wait to see what she has in store."
Although her desire to help people is what initially drew Annette to HFH, it is the community and chance to grow at the organization which has kept her around.
"I like how everyone works together. There is a lot of teamwork and there are many opportunities that are offered to staff within the organization," said Annette. "I started as a receptionist, and I was asked if I was interested in working at HFH Summer Camps with the recruiters—bringing kids to and from camp—which was a good experience for me."
Annette will be celebrating 30 years with HFH in April 2024. She has worked her way up, starting as a receptionist and eventually being promoted to an administrative professional until assuming her current position as office manager.
"You work doing something that you truly enjoy, and you meet so many interesting people, that the time just flies. It's hard to believe," said Annette.
"Annette brings a lot of institutional knowledge and continuity to the agency," said Dr. Ralph da Costa Nunez, former President/CEO and current HFH Board Member who worked with her for 27 years. "She really adds a solid dimension to the office: always pleasant, great attitude, someone who can be counted on to show up and get the job done."
"She brings a good sense of humor. People don't know that about her," John added.
When Annette isn't holding down the Central Office, she enjoys being an aunt to her growing family, dog-sitting for the family pets, and reading a good mystery novel.
"I also enjoy going for long walks [with] good weather," said Annette. "My favorite time of year is the fall. I love everything fall, from the changing leaves to the crisp feel in the air to the pumpkin spiced lattes."