Girl Scouts give young girls the tools they need to be the most confident and courageous versions of themselves. Many children experiencing homelessness miss out on the chance to participate in programs like Girl Scouts due to a variety of complex circumstances. The Girl Scouts of Greater New York launched Troop 6000 in 2017 as a troop specifically designed to be a space where young girls in the New York City shelter system can join a community that builds girls of courage, confidence, and character.
Troop 6000 gives girls experiencing homelessness an opportunity to join a strong network of girls and women across the country.
Girls living at the HFH family residences located in the Bronx have been involved with Troop 6000 since April 2021. The meetings were held virtually in the spring, and have begun in-person every other Thursday at Allie's Place Family Residence. The goal is to unite girls across all four HFH family residences to join this network, including more field trips and community service involvement as things move forward.
Heidi Schmidt, Director of Girl Scouts of Greater New York Troop 6000, presented during the 2020 ICPH Beyond Housing Conference along with girls from the troop.
"Girl Scouts of Greater New York is thrilled to bring Troop 6000 to Allie's Place, working together with Homes for the Homeless to make Girl Scouting accessible for girls living in family shelters," says Schmidt. "Through regular meetings and activities, members of Troop 6000 connect with each other and develop strong bonds over shared experiences, in addition to becoming part of the larger Girl Scout sisterhood across New York City."
The significance of Troop 6000's involvement with HFH is portrayed in the book Troop 6000: The Girl Scout Troop That Began in a Shelter and Inspired the World written by The New York Times journalist Nikita Stewart. Stewart introduces readers to the story of a single mother of five, Giselle Burgess. The lives of her and her daughters were altered drastically when they entered a shelter in Queens, New York.
Having witnessed the impact that Girl Scouts had made in her daughters' lives, Burgess decided to form a troop at the shelter her family was living in. While it proved to be a challenge, the troop brought together families experiencing similar hardships, and the weekly meetings became an escape for the girls involved. Today, Troop 6000 is present in shelters across New York City and has gained recognition across the country.
Jasmin Vaughan, Lead Teacher for Allie's Place Afterschool and Recreation, was once a Girl Scout herself. Having grown up in the Bronx, she believes that the girls at the HFH shelters will benefit greatly from being part of Troop 6000.
"I truly think it gives that exposure for them to experience new and different backgrounds. I think being in Girl Scouts will help to broaden their minds," says Vaughan.
Vaughan believes the girls will gain life skills as active members of Troop 6000 including "increasing their ability to communicate with people in their community and, [interacting with] girls in the other troops, and connecting with people outside of the troops."
One of the benefits that membership in this special troop provides is access to the "Troop 6000 Transition Initiative," which helps Girl Scouts and their families throughout the process of moving out of the shelter system into housing. Essential items for their new homes, such as soap, shampoo, pillows, and comforters are provided along with financial aid—to ensure that the girls stay connected to their Troop 6000 community throughout their transition—and help connecting the girls to another local troop near their new homes.
The girls who attend Allie's Place Afterschool and Recreation program have given positive feedback about their involvement with Troop 6000.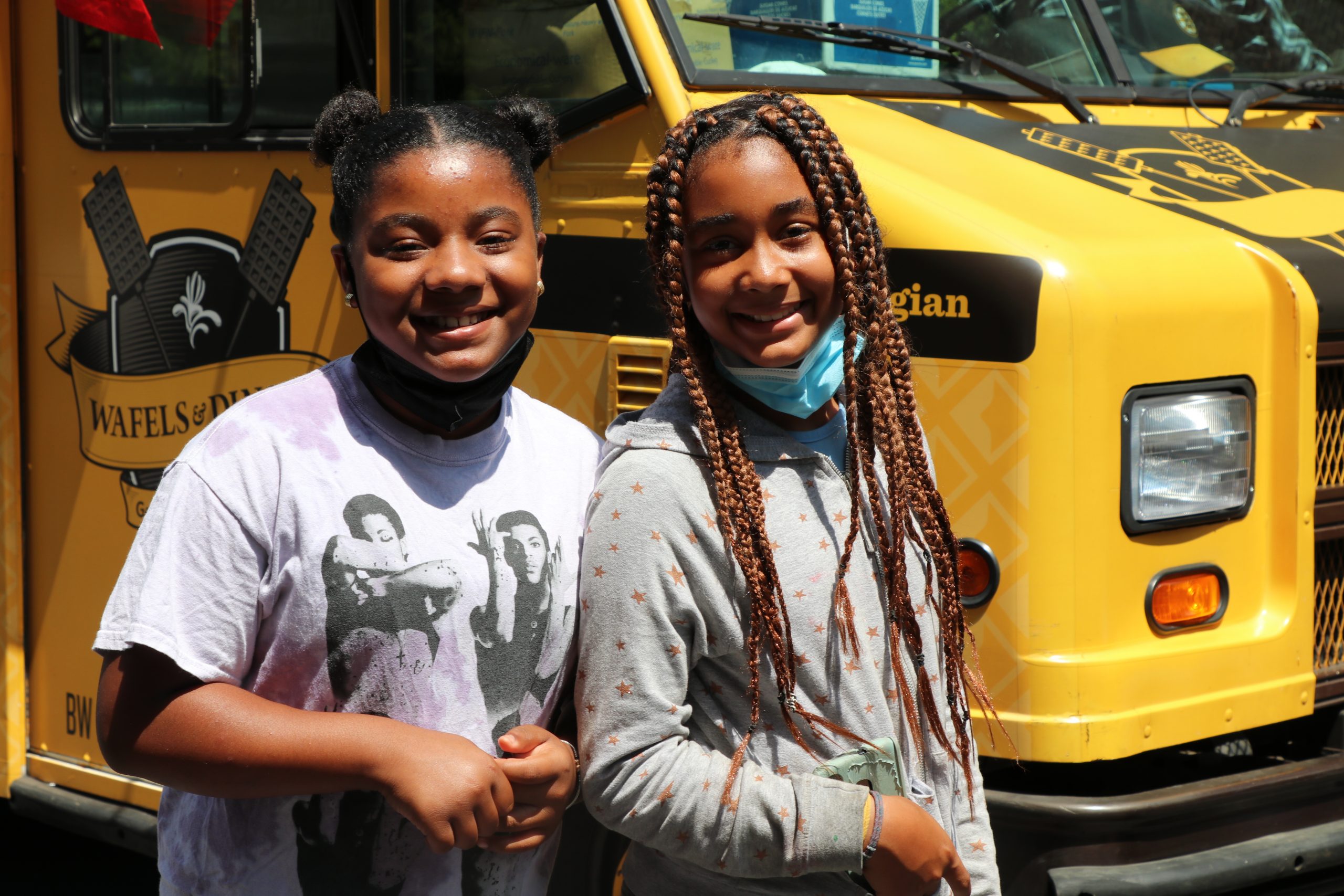 Members of Troop 6000: Makailah and Jazlynn
"It's very fun, and it's very entertaining," says Makailah, 10, a member of Troop 6000 at Allie's Place since its inception in April.
"[To me, Troop 6000] means to have somebody to depend on and just know that they're going to be there like a sister," Makailah continued. "It's something where you have people that care about you, have people who actually want to be there for you, that you could talk to if you don't have anyone else to talk to, and have fun at the same time."
Another member of the troop, Jazlynn, 9, was previously part of Girl Scouts in school and decided to rejoin with Troop 6000 when it was introduced at Allie's Place. Jazlynn's favorite activity with the group is the icebreakers because she gets to know the other members of the troop.
Schmidt says that "Through their Girl Scout journey, girls develop supportive relationships, explore new interests, and gain the confidence to use their voices to make the world a better place."
Moving forward, HFH is working toward the goal of including girls from each family residence and providing an opportunity for women in the community to get involved so they can all take advantage of Girl Scouts Troop 6000.