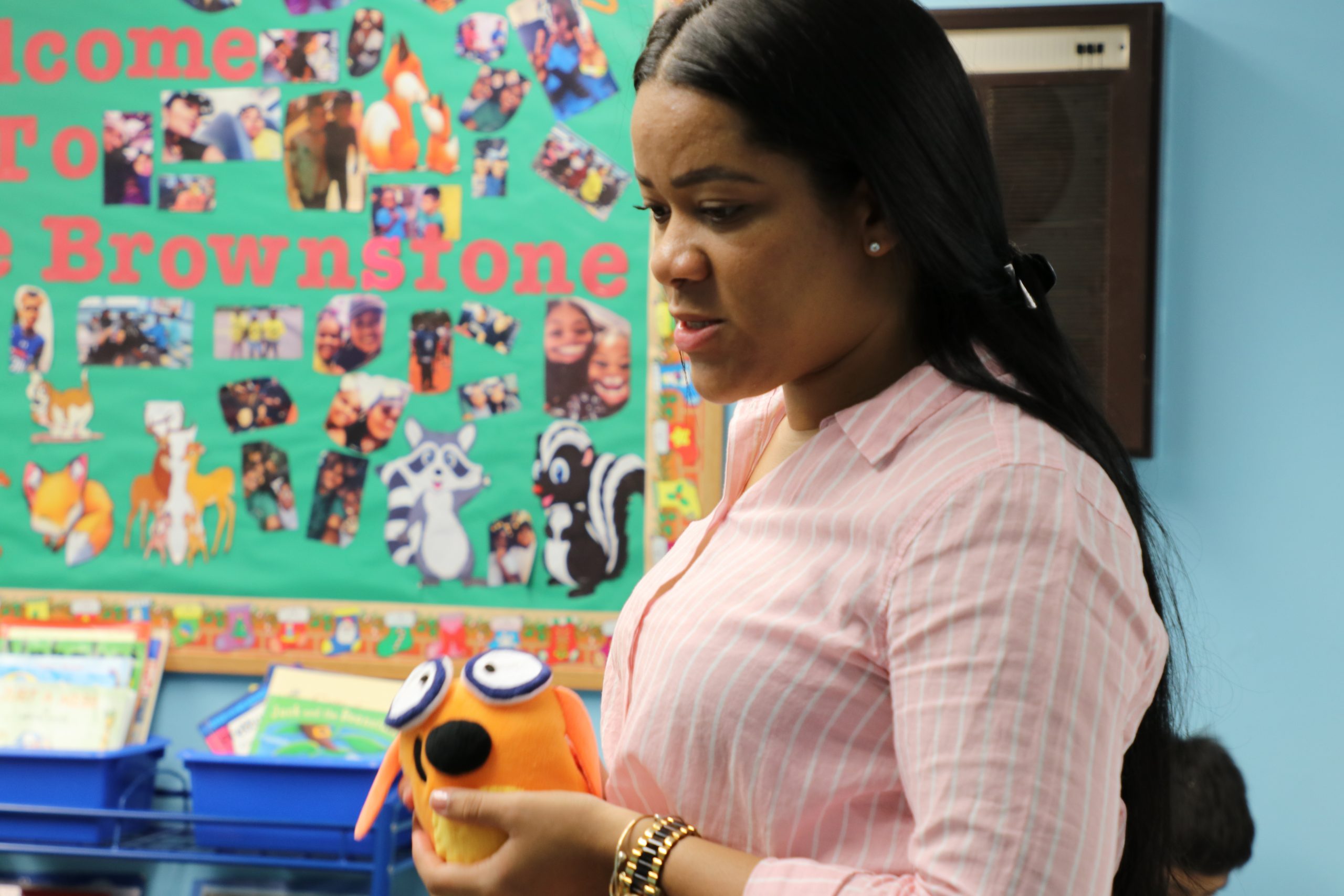 When Heidy Mendez isn't designing curricula, chaperoning field trips, or leading activities at Prospect Afterschool, she loves to go on road trips and spend time with her family.
"Family time is one of my biggest priorities," said Mendez. "I have a sister who's away in school and a lot of cousins who are teenagers and who look up to me… We're very, very close."
Family is also a central part of the community that Mendez creates at Prospect Afterschool, where she celebrated her nine-year work anniversary this April. She is currently the Education Programs Coordinator at Prospect, managing a team who facilitate programming for children and youth— from kindergarten to high school.
"Even though we're an after-school program, we concentrate on the family as a whole," said Mendez, who led regular in-person family engagement events, like science workshops and Zumba classes, before the COVID-19 pandemic put some programming on pause.
At the same time, the pandemic has made afterschool even more important for K-12 students at Prospect who have found relief and joy through the program over the course of an exceptionally challenging year.
"We've definitely been a support system for them," said Mendez. "A lot of them were home with mom for the whole day, so this was a little escape for them to interact with other people and do other activities."
Mendez, who lives in the Bronx and is originally from the Dominican Republic, has a bachelor's degree in psychology and a master's degree in school counseling. She's currently studying for a mental health counseling degree, as an extension of her master's degree.
"Especially now, after going through this year, I've noticed that a lot of our children are getting more anxious," said Mendez. "I would like to help kids learn to deal with their emotions in a safe way."
We talked to Mendez about her experiences working at Prospect Afterschool.
What motivates you in your work?
When kids share how they feel about a program—it's the feedback that what I'm doing is important and that they care about it. That's what keeps me motivated. I just want them to have fun.
How do you use your counseling skills while working with kids at Prospect?
I try to meet them where they're at and listen to them, because in counseling, you need to do a lot of listening. I try to take notice of what they want, and I'm always thinking about what they like to do and what they'd want to participate in.
What's a typical day in afterschool?
I arrive in the morning, and we do a lot of background work [to prepare for] program. So, we'll plan and put things together for the day, and we'll communicate with the other teams and departments, so that the program can run smoothly. Our after-school day started at 3 PM before COVID. We do homework help with them and talk to the parents. Afterwards, we do snack, and then we have an activity. Then, we have dinner and sometimes a bit of free time before we dismiss the kids. At the end of the day, we start putting things together for the next day and checking in about how the [after-school] day went.
We offered family engagement events, hosted career and college planning activities and workshops with our partners, and provided cooking and nutrition class for children and parents. We also provided dance and yoga classes, and many other family growth and enrichment activities. About once a month we went to field trips, which were really fun. The kids love when we get to go on trips.
How have things changed during the pandemic?
Our [after-school] population has decreased, which is very sad, because I don't get to see all of the children who used to be here. Right now, we're starting to go back to the routine of being in person, however the kids have become accustomed to not going to in-person programming. So, there's a lack of participation, but we're working on promoting [afterschool so that kids know we are not just virtual]. Note: Mendez pointed out that during the height of the pandemic many children experienced an understandable fatigue with all online, remote activities during their school-day and afterschool, and that it will take a bit of time for them to adjust as we all continue to make transitions to more in-person interactions.
It seems like there are a few kids, though, who are really regular attendees. Can you talk about how afterschool has supported them during the pandemic?
We have supported them by providing a space for them to interact with us—the staff—and other children during a time when everything has been put on hold and they have no other ways to connect. They're very attentive and I think they get really attached to us. If I am not in here first thing, they become worried. If one of the teachers is out that day, they'll ask what happened to them. We get kids who are very loyal, and they always want to be here. They always want to come to afterschool and see us.
What's your favorite part of the job?
Honestly, I like being with the kids. I really enjoy being with the kids, especially when we go on field trips. They come up with the funniest things. Learning about what's interesting to them and what's funny to them—I think that's one of my biggest joys. I empathize with them and get really upset when my kids are going through a hard time. You get emotionally attached in that way, in the same way that they get [attached] to you as well.
You work with kids of all ages. How do you manage that?
I try to adapt to their interests and try to give them their own "space." With the little ones, they want more contact and attention. They want to be noticed a lot. With the teenagers, they want to be their own person. They want to be independent. I have a lot of fun with the teenagers, because they like to joke around. With them, we can sit down and have a whole conversation about school or things that they're interested in. We actually talk about a lot of different topics that are going on in the world.
Can you talk about your relationship with the parents?
During my time here I have built many great long relationships with families. I always tell my parents when they come in for the first time, that if they need anything, to just let me know. I think it helps set the foundation for them to sense that I am available to support them. I've had parents ask me about school, bring me papers to translate for them, call me about something that happened, or they'll call me just to tell me that they're doing okay. I show them that I care about their children and family, that they're safe, that they are loved, and that they're treated well. This way we build trust and form these relationships.
Do you have any favorite memories of afterschool?
Once in a while, you build a really special relationship with a child. I used to have this child who had some speech and learning disabilities, and he was very protective of me. As soon as he came in the door, he used to give me a hug and ask, "Are you okay? Is everything ok?" He wanted to make my day better. And he did—just by doing that. He was so caring, and he was like that with everyone. We used to have another child that started with us when he was five, and he kept with us for more than five years. To see him grow and move to different classes within the afterschool was special. Then he brought his little brother and then another little brother, and it was nice to see them have this program as a part of their daily lives.
Previously, Prospect's after-school program was open to both children who reside at the shelter and children in the surrounding community so children could attend the program for multiple years. Currently, Prospect's program is open only to children in the shelter.
What's the biggest challenge of working in afterschool?
As things became more virtual, our children are learning to be less engaged in person, especially the teenagers. Losing that aspect of them coming into program and interacting with other kids is really challenging for me. So, we try our best to communicate with our Case Managers, with schools, and with their teachers. It's also hard to keep up with the newest things they're interested in, like TikTok, because that's what kids want to talk about.
How have your relationships been with other staff members?
I try to get along with everyone, to be helpful and respectful. I have developed relationships throughout the HFH organization, and it's great to work towards a common goal in different aspects. The person I've worked with for the longest is Gretchen [Hernandez, Deputy Executive Director at HFH]. I look up to her, not only as a supervisor, but as a knowledgeable individual as well.  She has greatly influenced my work ethic and has seen me grow professionally. She's always there to give you constructive criticism—because she wants to see you grow. I think it is a very important part of a work environment to acknowledge everyone's labor and efforts because this helps build positive work relationships.
What are your plans for summer day camp this year?
I want to do as much outside as possible. With everything they've been going through, I want the kids to interact with nature and be outside in their community.
Is there anything else you'd like to add?
It's important for people to know the great positive impact programs like this have in the children's lives. It can support social, emotional, cognitive, and academic development, promote physical health, and provide a safe and supportive environment for children and youth. I'm very thankful for the experience that I've had, that I've been able to build here, from my supervisors and staff and the children and their families.