After much brainstorming, collaboration, and collective creativity, Allie's Place K-12 Afterschool & Recreation has their mascot. Staff and students alike are thrilled about having a welcoming alligator as their mascot and becoming "Allie's Gators." The student group, ranging in age from 5 to 16, came up with the idea of the alligator and 13-year-old Victoria used her artistic ability to sketch the original design that was further developed by Lee Dixon, a freelance graphic designer who works with HFH.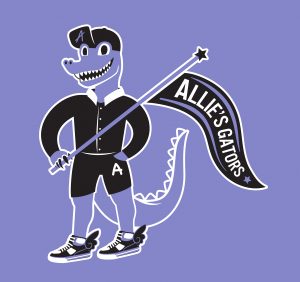 "I first traced the child's drawing in Adobe Illustrator, creating flat shapes of all the different components of the original sketch," said Dixon. "From there, I refined the vector illustration—like ensuring the arms and legs were proportionate, changing the perspective of the hat, making the teeth more uniform—and then readied the file for print."
While creating the design, Dixon thought about how the original artwork could be implemented in the future. He melded practicality in terms of how it would look printed, on a TV screen, or projected onto a huge wall without sacrificing the originality and joy of Victoria's sketch.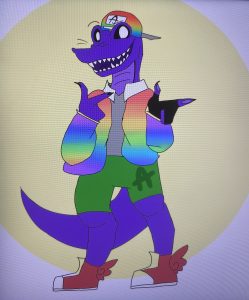 This was simultaneously a great learning activity and a way for the students to express themselves freely and creatively. It also allowed them to experience what it is like to portray themselves as a unit in a new way.
"It was crucial that the students were a part of creating the mascot. It gives them the opportunity to have power and a voice," said Julissa Lantigua, Administrator at Allie's Place Family Residence.
Allie's Place wanted their mascot to be timeless. As the years go on and students come and go from the program, the mascot is something they can always be a part of.
"Having a mascot gives the kids a sense of pride and appreciation for the program. I'm very happy they participated in this," said David Belmar, Afterschool Manager at Allie's Place. "We wanted to create something amazing here that can be long-lasting."
The Allie's Gators mascot will be printed on t-shirts for the students to wear over the summer on field trips, during new programs, and will be featured around the halls at Allie's Place.
Each HFH afterschool program has their own mascot. There's the Prospect Lions, Saratoga Eagles, Williamsbridge Wolverines, and now, Allie's Gators.