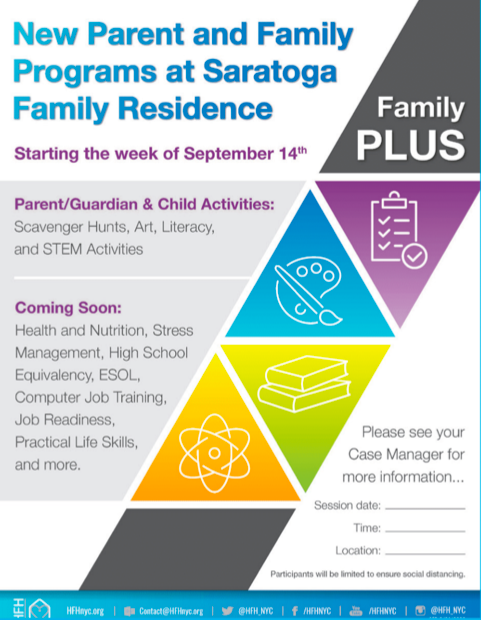 At HFH's core are three guiding principles: education and recreation, employment, and social services. Over the last three months, HFH staff have been focused on designing an education program for parents that builds on the organization's nearly 35 years of experience delivering services to families experiencing homelessness. This new program, Family Practical Living Useful Skills or Family PLUS, is a new take on a series of workshops previously offered at HFH sites but designed to specifically meet the needs of the adult parents/guardians and caregivers living in HFH's four shelters today.
At the core of the Family PLUS program is Family literacy—the family-specific curriculum that includes activities and workshops for the parent and child, ranging from topics like self exploration and stress management to job readiness. This program is built to enhance the independent living skills of the parent. The series of workshops, which require a commitment to complete all workshops, strive to help participants build self-esteem, create personal support networks, learn practical skills and information, and develop linkages to community resources. In addition to Family Literacy, the program will offer English for Speakers of Other Languages (ESOL), High School Equivalency (HSE), and computer training.
The curriculum, which will be facilitated by HFH staff with expertise in the key areas being covered, will cover topics that often serve as barriers to a family's ability to move into permanent housing and maintain long-term family and housing stability in the community.
The Family PLUS workshops are set to launch in October at Saratoga with a full roll-out at all four sites later in the fall. The complete Family PLUS program will be rolled out over the course of the next six months.