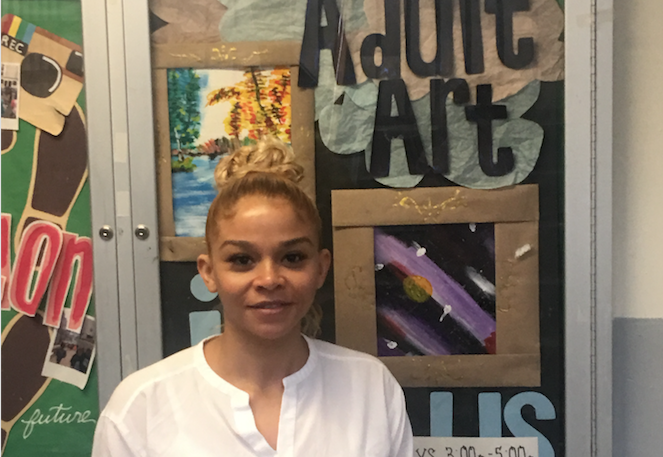 As Assistant Manager of Recreation at Saratoga, Breanna Battle manages programming that allows participants to explore their passions through a diverse selection of activities, from kids soccer practice to adult computer class.
Battle and her staff at recreation cultivate this variety intentionally, so that families feel empowered to get involved, regardless of where their interests lie.
"It's nice to see them find their thing, even if it's not the same as my thing," said Battle. "We see what people's talents are and try to bring them out."
Battle is a painter herself and previously worked as an Arts & Crafts Specialist for HFH Summer Camps and Saratoga recreation.
While her current role involves program management, she continues to be involved in Saratoga's arts programming, teaching topics like painting, sculpture, and crochet in an adult art class.
"I do art at home. I do paintings and I have a couple of commissions," she explained. "This is a way of keeping art in my life—by sharing it with other people."
Unlike traditional afterschool programming, recreation programming takes place later in the evening and on weekends, and incorporates sports teams, workshops, and special events for the entire family.
Recreation activities are especially targeted towards sparking and honing participants' passions, including those underemphasized in traditional academic settings.
Recreation is also a lot of fun, for kids and parents alike.
"You say recreation to the kids and they're instantly excited about it," said Battle, noting that the kids' enthusiasm often serves as an impetus for their parents' involvement.
"I think it starts with the kids," she said. "The kids want to be here so badly that their parents are kind of pulled in here."
Parents initially reluctant to involve their families in programming often warm up once they see their kids' involvement.
Battle recalled one mother at Saratoga jokingly complaining about her kids loving recreation so much that they spent all of their time there.
Then, Battle said, the mother caught the recreation bug herself.
"She actually got really involved in the adult art class and computer skills class, and now she comes to all of the classes," said Battle. "She sees why the kids love recreation so much, and so she gets involved and she does it, too."
Staff at Saratoga consider Battle's dedication as Assistant Manager of Recreation to be a key component in drawing families to programming.
"Breanna is the definition of versatility in the workplace," said Trevon Charles, Recreational Coordinator. "I have seen her complete dozens of tasks outside of her job description. Her work ethic and ability to get things done is admirable."
Likewise, Michael Chapman, Director of Saratoga Afterschool, praised Battle's commitment to recreation.
"Breanna's passion for youth and families, arts and recreation, and overall youth development is comprehensive," he said.
Ariel Richardson, Assistant Manager of Afterschool echoed her colleagues' sentiments, noting Battle's creativity and positive rapport with families at Saratoga.
Battle, for her part, credited families at Saratoga for recreation's positive and supportive atmosphere.
"I think it's because the families are so willing to get involved with what we do," she said. "They're so receptive of what we offer them."
Part of this receptiveness stems from recreation's responsiveness to parent input, including in the development of community-building family events and activities.
Saratoga's latest Family Talent Show began as a note in a suggestion box set up by recreation staff. The mother who requested the event then took initiative and worked alongside recreation staff in the development of the show.
"A lot of the family events come from suggestions from the parents; and we want them to be as involved as possible," said Battle, noting that the mother who proposed the Family Talent Show is now in the process of developing another performance.
Saratoga's family engagement events are yet another expression of recreation's commitment to empowering families through their hobbies, passions, and community.
Battle noted that when people are encouraged to excel at their passions, this instills in them a sense of pride and ambition that quickly extends to other aspects of their lives.
"I think the fun activities are the discovery periods. It's where you try something new and see if that might be your passion," Battle explained. "That's where ambition kicks in—where you find out what it is you want to do."
Whether that passion emerges through sports, the arts, or computer programming, Battle considers this freedom to explore to be a vital service that recreation programming provides for families at Saratoga.
"I think that's something that you can't teach or force," she said. "You just have to guide, and let it be discovered."