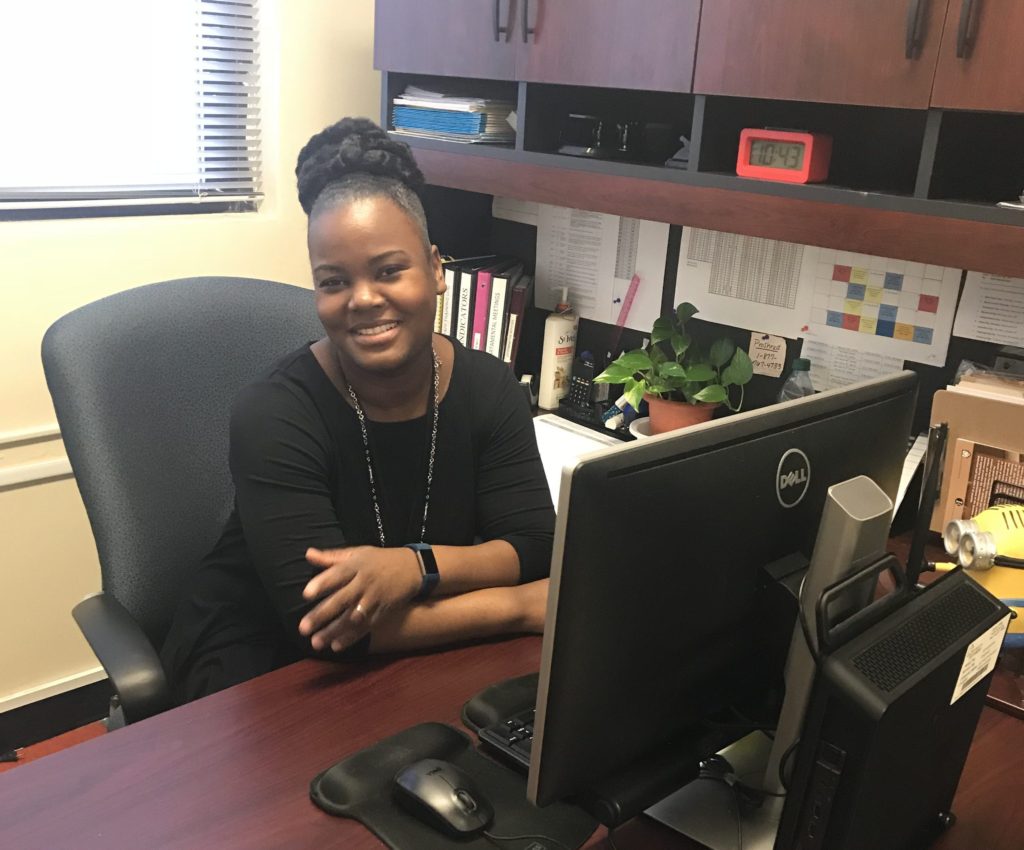 Carjah Dawkins-Hamilton, Senior Client Care Coordinator at HFH's Williamsbridge Family Residence, never thought she would be a social worker when she was growing up.
"In a lot of Caribbean families, you're either a nurse, a teacher, that's the kind of field you get into," Dawkins-Hamilton­­––who was born in Jamaica––explains. "You don't really get into social work."
At age 16, Dawkins-Hamilton's family moved to the Bronx. But her path toward social work began at SUNY Geneseo, where she started as a biology major, before changing to psychology. While on campus, she served as a campus "health guard," teaching peer groups about sexual health.
It was this experience that led her back to Bronx AIDS services after graduation. "I was very passionate about STIs… and how it's affecting my community," she says. She applied for a health education position within the company, and was able to work with a series of young girls from the Bronx.
"That's when I realized I wanted to do social work," says Dawkins-Hamilton. Talking with her clients at Bronx AIDS services, she realized that their problems went far beyond STIs. There were issues of domestic violence, of unstable housing, or unhealthy relationships.
Dawkins-Hamilton thought, "how can I do what I want to do, which is health and wellness…but also really be able to sit down and talk to people and work with them on that level?"
A friend suggested she look into social work. Dawkins-Hamilton took the advice, and was accepted into the accelerated one-year residency program at Hunter College.
She left Bronx AIDS services, starting work at Children's Aid Society, where she could be supervised by a licensed social worker. She moved up the ranks, from Health Educator, to Foster Care Youth Coach, to Coordinator of Foster Care Services.
It was in the latter role, as she helped young people access housing resources, that she became interested in helping those experiencing housing instability. When a position opened up as a Client Care Coordinator at HFH's Williamsbridge Family Residence, she took it. She has been with HFH ever since.
Client Care Coordinators are part of an initiative established by the NYC Department of Homeless Services to better serve homeless families. Placed in DHS facilities, Client Care Coordinators help to improve the delivery of mental health and community-based services to families living in shelter.
As a Client Care Coordinator at Williamsbridge, Dawkins-Hamilton helps families deal with the issues surrounding housing insecurity on a daily basis. As a mother herself, she tries to bring her life experiences to her practice, helping expecting mothers with birth plans, and providing new mothers with necessary follow-up support.
This is part of a broader approach that Dawkins-Hamilton has to social work. "I want to know it, I want to be in the trenches," she says, "I hear you, I'm from the Bronx too, I'm an immigrant as well, I'm a first-generation college grad, I get it. I want to be able to really feel and empathize with our families."
This approach endears Dawkins-Hamilton to her supervisor, Williamsbridge Administrator Marisol Santiago, who calls her, "compassionate, an advocate for all, and an educator."
Dawkins-Hamilton has helped numerous families get the support they need. Ultimately, she attributes her success to a simple fact, "I love what I do, and when I love what I do, I put my all into it."
This is the second installment of our Spotlight On: series, which takes a look at the people who keep HFH running. Read more in our "What's New" section here.