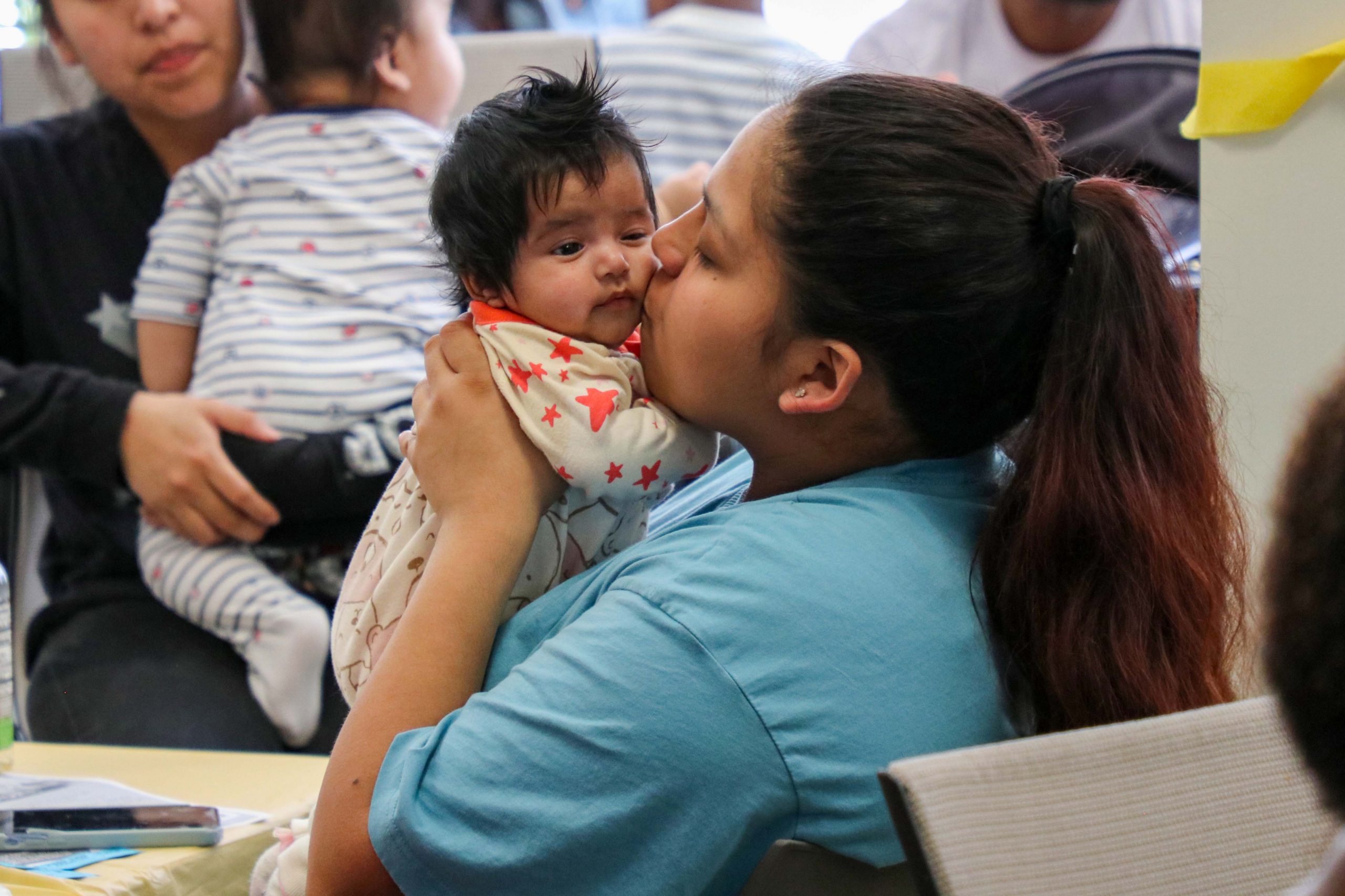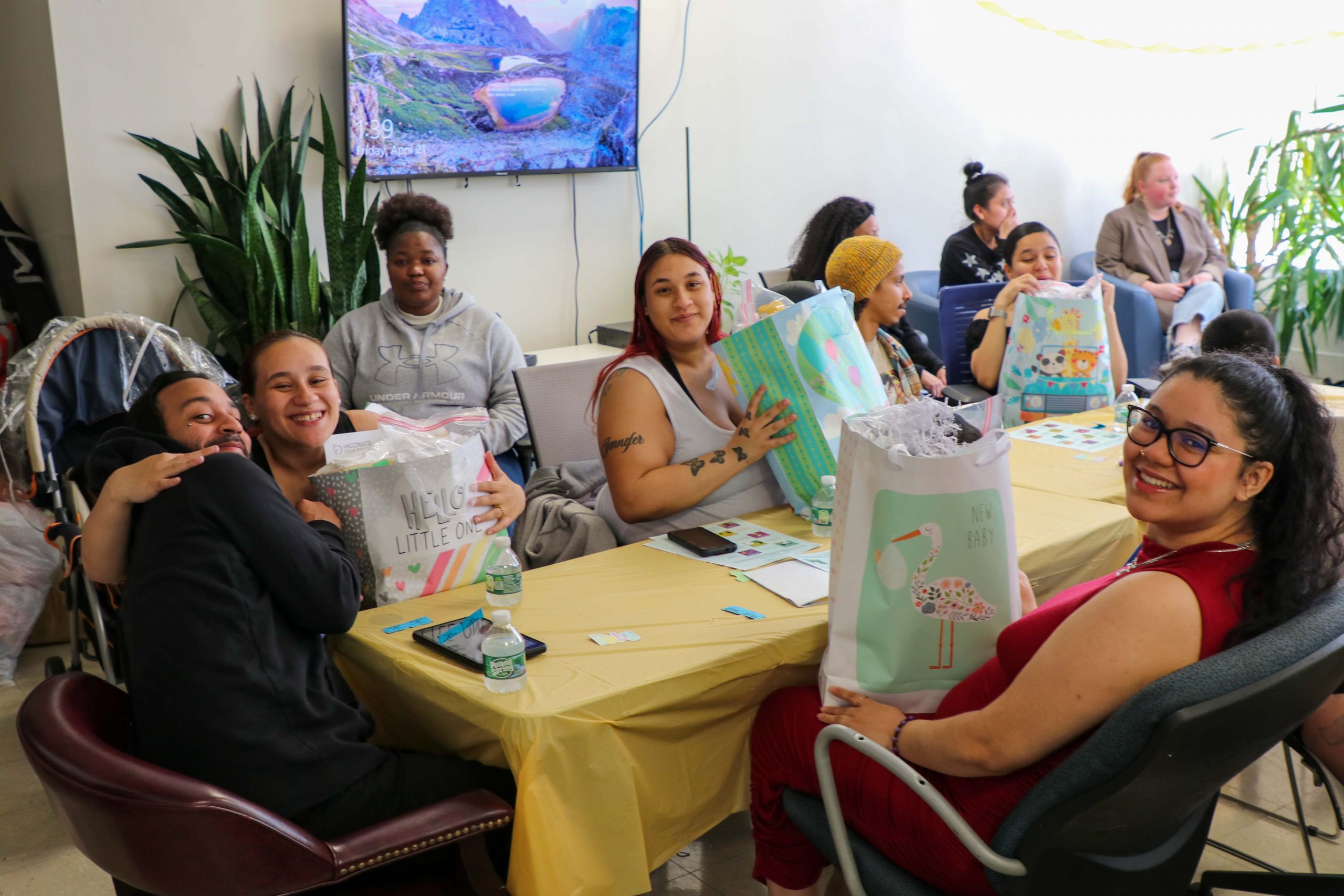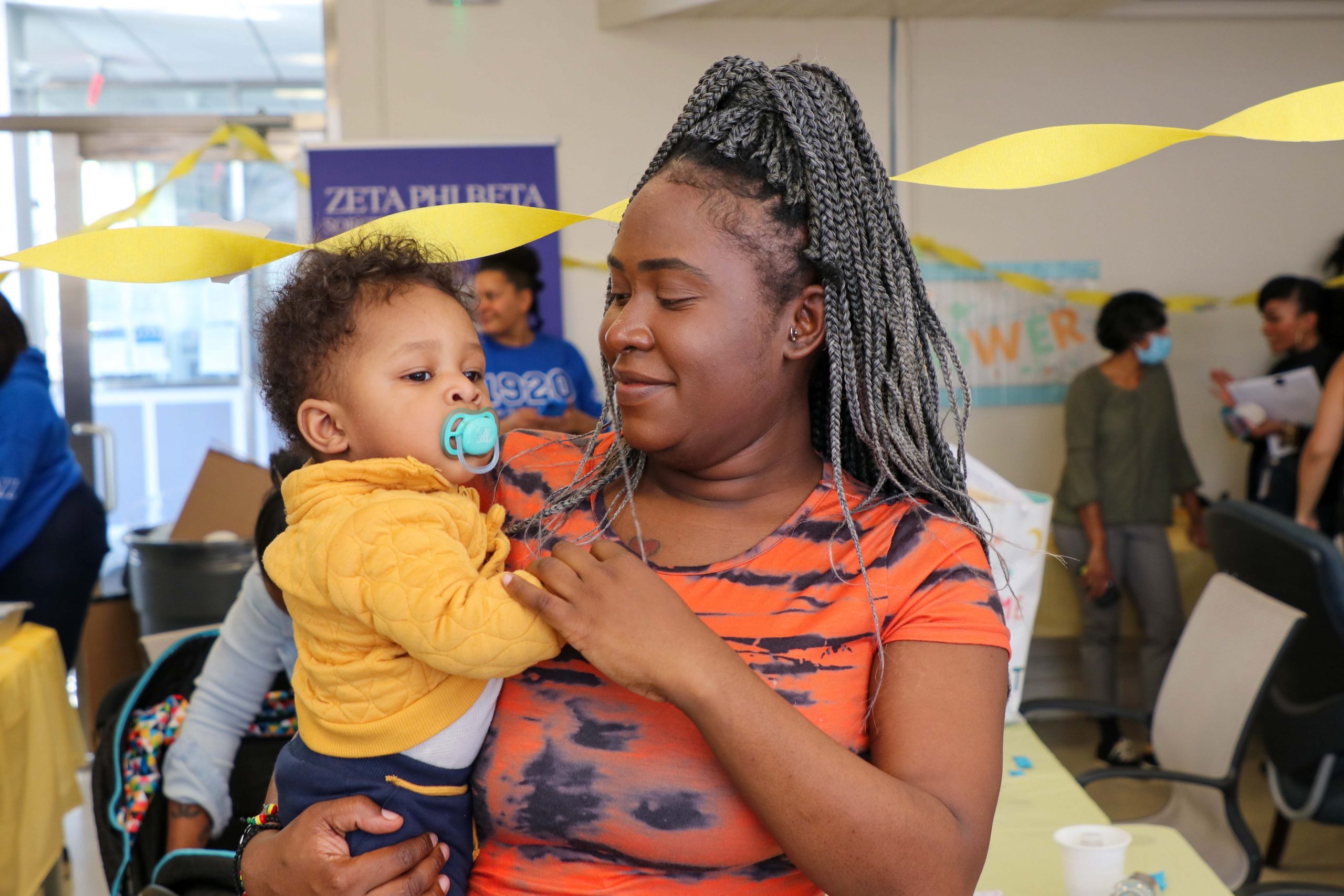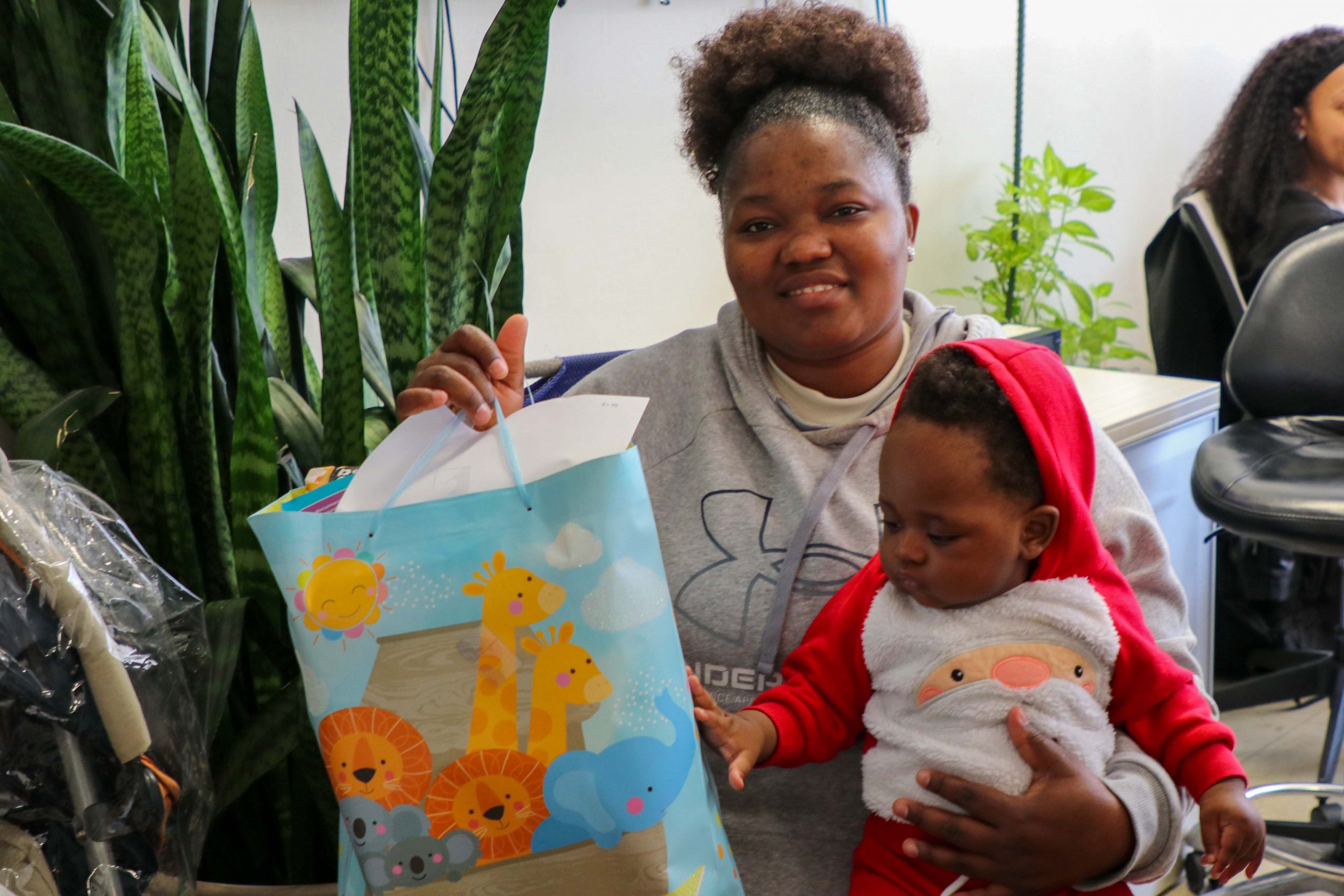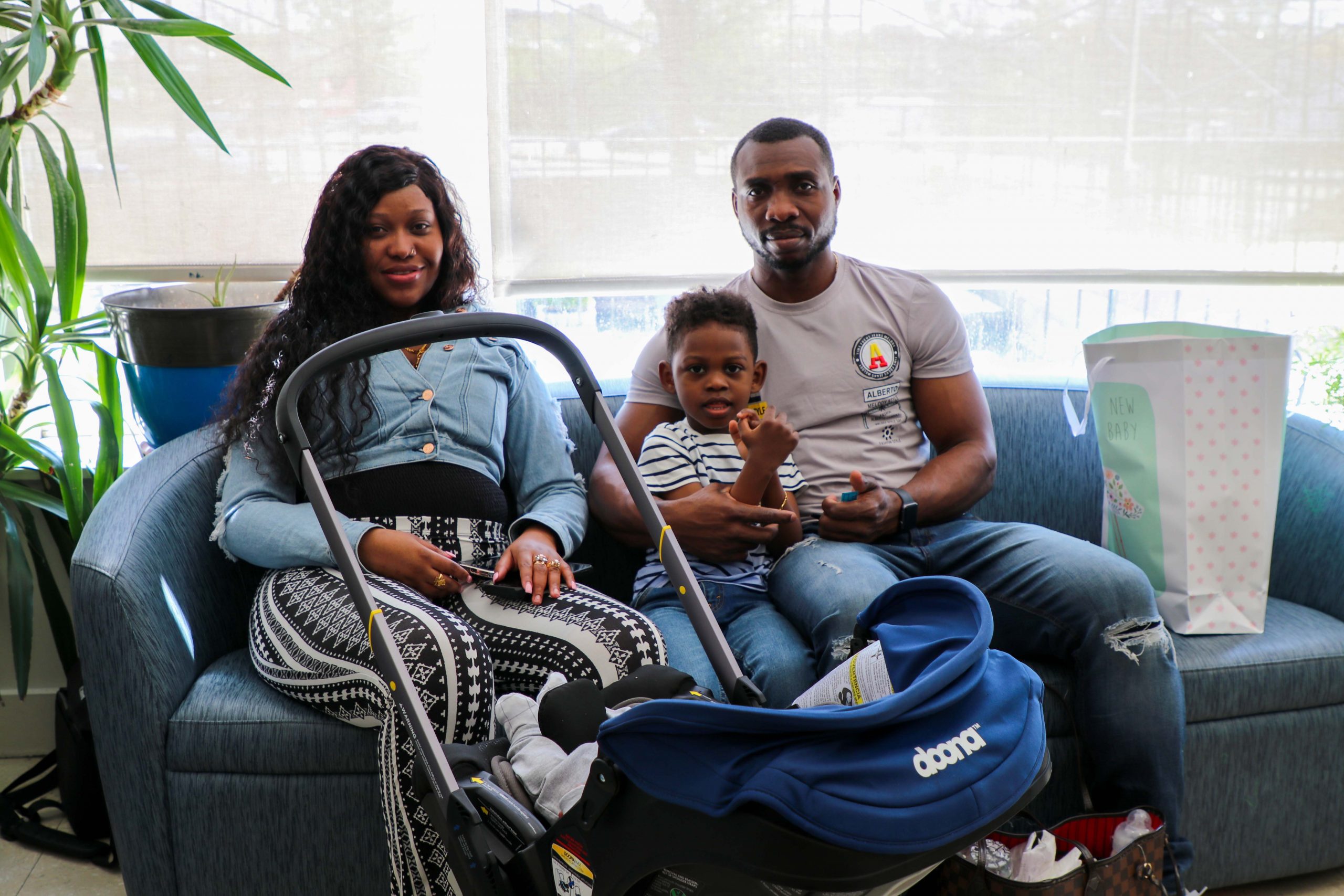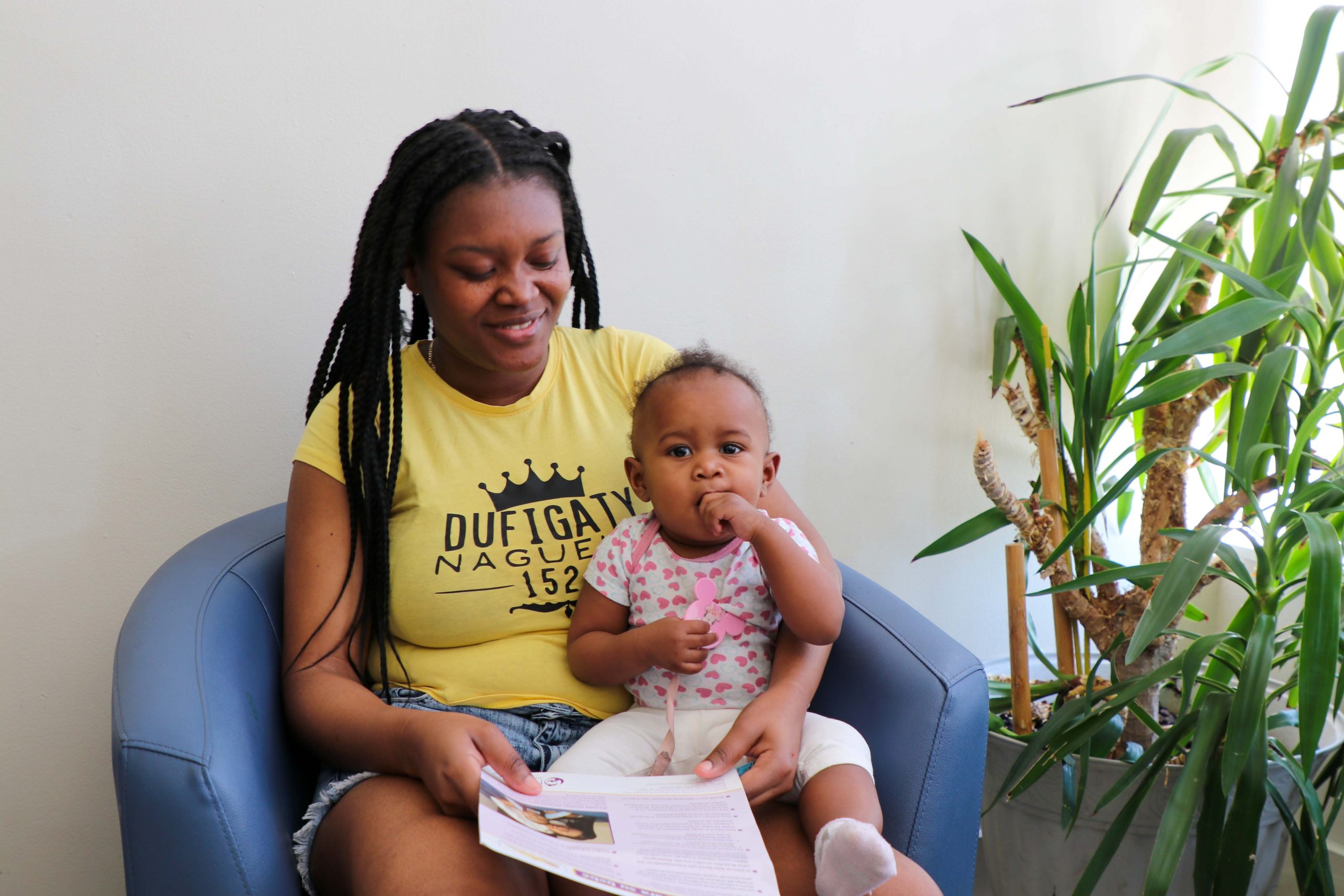 The Zeta Phi Beta Sorority, Inc. Phi Zeta Zeta Chapter recently hosted a baby shower for the families at Saratoga Family Residence in conjunction with Saratoga's Family Services team. The expecting new mothers and fathers at the shelter were excited for the opportunity to get to know the other parents in their community, learn about resources available to them, and receive some essential baby items.
"I wanted to get to know the other pregnant mommies and women that just gave birth, and also I was so excited to get a couple of things for my baby girl that is coming," said Aileen, who is expecting her first child.
The Phi Zeta Zeta Chapter has had a longstanding relationship with Saratoga since the Chapter began in 2007. Over the years they have donated clothes and hosted a variety of workshops on topics like dressing for interviews and applying for jobs. Expecting and new parents, which Homes for the Homeless (HFH) defines as parents of children from birth to two years old, make up 61% of households at Saratoga, a group that the Chapter was eager support.
"We decided to focus on that population because it is hard enough being [in shelter], and it is probably even more difficult being [pregnant] and having to make sure you have everything you need, so we wanted to contribute as best as possible," said Anna Senat, the 2nd Vice President of the Zeta Phi Beta Sorority, Inc. Phi Zeta Zeta Chapter.
During the height of COVID-19, the Chapter was only able to drop off baby items and gifts for expecting parents. However, this year, they were excited to hold an in-person celebration at the shelter.
The Chapter connected with various community organizations to provide a well-rounded program for the new and expecting parents. Certified Life Coach Yahhila Yisrael from Shining Start Yoga & Wellness gave a presentation on the importance of yoga, meditation, and mindfulness during pregnancy; doulas from the HOPE Community Doula program discussed the benefits of doula support; Veronica Henry from The Black Coalition for Safe Motherhood discussed and facilitated an interactive practice surrounding the rights of pregnant and birthing people in medical and maternity settings; and volunteers from Queens Healthy Start shared information on the resources available through their program, including home visiting, case management, and health education.
"[I was] interested in the services … I want to try a doula. It's my third pregnancy, and I have never had one. Now knowing that they have one in my hospital—I want to go for it," said Shakira, current mother of two.
Another expecting mom, Skyler, was interested in the birth plan services and was relieved to find out that her hospital is associated with other locations, making it convenient for her to go to a local hospital without the stress of them not having her health records.
"This event [was] an important resource for expecting and new parents because of the direct connection from the community to the families for support," said Sangeeta Kewlani, Director of Family Services at Saratoga. "[It served] as a safe space and a unique opportunity for parents to obtain assistance, meet other parents in a [similar] situation, and obtain medical/health-related information and knowledge of services—which are also a form of informal prenatal care. Parents [were able] to have their voices heard, their experiences validated, and their questions answered."
Nicole Francis, a member of the sorority and liaison between Saratoga and the Chapter, hopes that the event will continue to grow.
"Our hope is just to get it bigger and bigger," said Nicole. "I hope that one year we're outside, and we're doing a bigger event. A barbecue or a picnic or something."
"I love that the dads came, too, because we definitely wanted them to feel like a part of it," said Nicole. "I saw one dad who said, 'Oh, I wanted that carrier!', so I thought that was great."
Overall, the celebration was a success, and the families at Saratoga left the event feeling supported and empowered. Nicole emphasized that providing the parents with the necessary information empowers them as they move forward into this new chapter of their lives.
"[We want to] make sure the families know that there are people, especially in this community, that love them, that want to give back to them, [and] that want to make sure that they are embraced."