The HFH community at Allie's Place Family Residence received a special delivery last month. Families were able to enjoy nutritious, and delicious, meals from supporter The Little Beet restaurants on behalf of one of their loyal customers.
Brett Eldridge, a Warner Music Nashville Recording artist, founded the #GoodDayMovement with the mission of making every day a "Good Day." Through this movement he encourages his fans, members of his fan club "The Locals," to do little acts of kindness within their communities. He kicked off the challenge in honor of Good Samaritan Day and Women's History Month by recognizing moms at Allie's Place.
Residents arrived to find food organized into stacked piles for them to grab, go, and enjoy. Smiles and thanks were shared by mothers and their children, many of whom thanked Allie's Place for their consistent service and aid within the community.
Families at Allie's Place choosing their meals from Little Beet. Residents were given a variety of options including vegetarian meals.
As residents chose their meals many commented enthusiastically about the different options available from brussels with roasted chicken and chimichurri sauce to falafel with basmati rice and beet hummus.
Juan, a teenager at Allie's Place, mentioned his newfound appreciation for trying healthy alternatives. Having been inspired by his sister who is vegan, he was eager to give the food from Little Beet a try.
Robert Seixas, Director of Culinary Education at Allie's Place Center for Culinary Education & Employment, an on-site training program for careers in the food and hospitality industry, helped organize the event with his team (pictured below).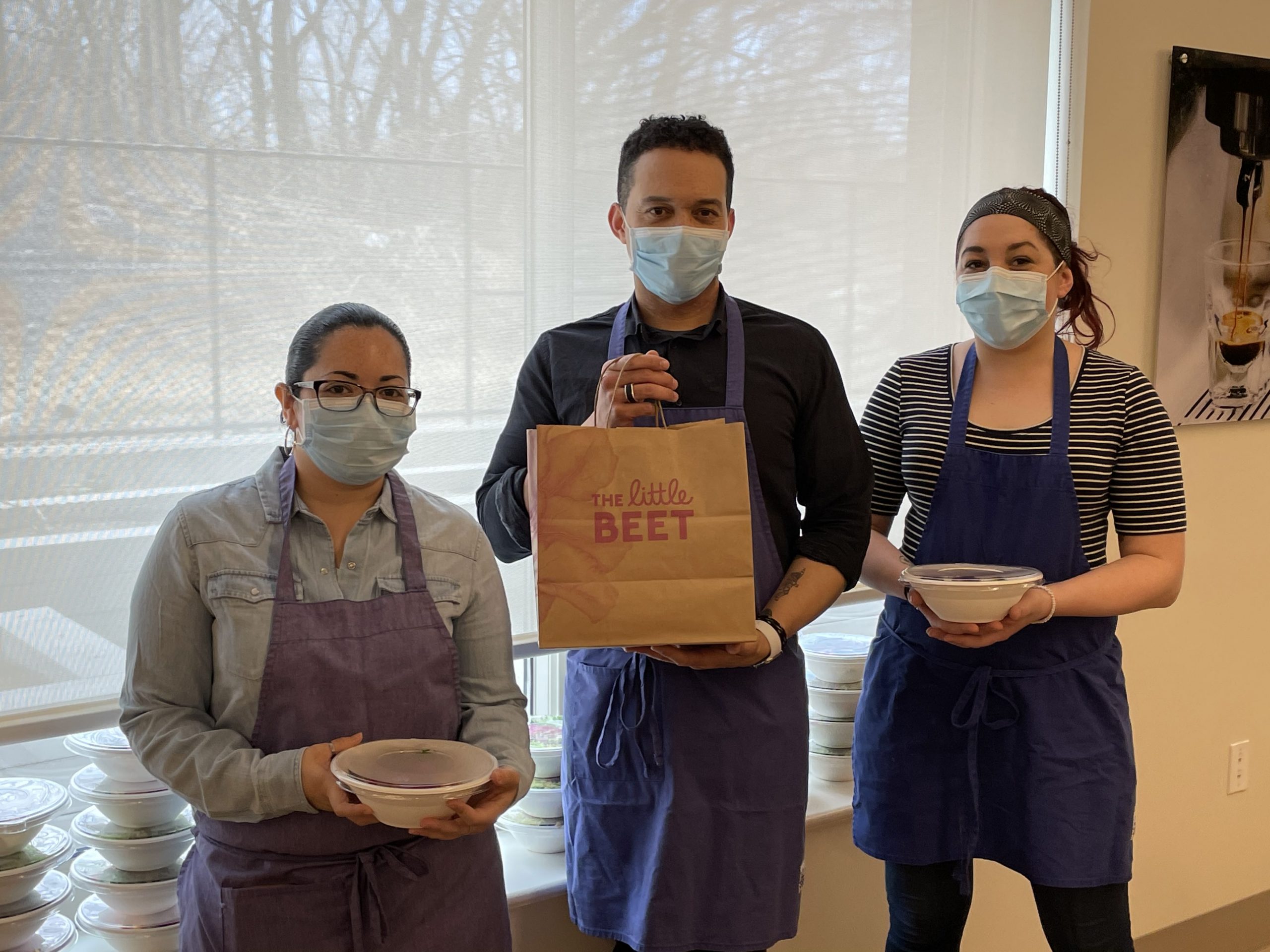 Pictured, left to right: Amanda Santiago, Culinary Outreach Coordinator; Robert Seixas, Director of Culinary Education; Christina Skirchak, Assistant Chef Instructor
"Our residents are very interested in healthy cooking, healthy meals that taste good," said Seixas. "We are really so grateful to Brett Eldredge and Little Beet for this donation." Earlier this year Chef Geoffrey Kornberg, Executive Chef for Little Beet, gave a virtual cooking demonstration for the culinary program.
In total, the #GoodDayMovement provided 50 meals featuring Little Beet's Brussel Hustle, Beet Falafel and Seasonal bowls.