Halloween may have looked a little different this year, but our Early Childhood Education and K-12 Afterschool & Recreation staff still worked hard to ensure their students could have a safe, special, and spooky celebration. 
Goodie Bags & Spooky Crafts at Prospect & Allie's Place
At Prospect, staff worked together to create candy bags decorated with monsters, pumpkins, and the word 'Boo!' and filled with treats. Early childhood education students also received their own pumpkins and pumpkin carving tools for a spirited parent-child activity. Children of all ages received costumes from HFH through a generous donation and costume drive from longtime HFH collaborator the Village Community School, a local K-8 school in Greenwich Village.
During their virtual after-school sessions, students at Prospect had plenty of opportunities to get into the spooky spirit. Heidy Mendez, Education Programs Coordinator, organized and facilitated a series of Halloween-themed crafts and activities for her students. These included a paper plate light-up ghost lamp, homemade felt masks, green monster slime filled with googly eyes, and a group pumpkin painting session, featuring zombies, skeletons, and more.
At Allie's Place, David Belmar, Afterschool Manager, also organized a series of virtual Halloween-themed activities for his students. Staff facilitated an event-filled week, with activities including a spooky movie, mask decorating, cookie decorating, and a costume party. Allie's Place also held a pumpkin painting activity, where staff encouraged students to paint their pumpkins to be scary, spooky, or silly.
Fall & Halloween Decorations at Williamsbridge
Throughout HFH, staff at Williamsbridge are known for their creativity in decorating their classrooms, bulletin boards, and doors. K-12 and childcare staff regularly compete to create the most spirited or educational door decorations to celebrate different holidays and seasons. This Halloween and fall season was no exception.
Williamsbridge childcare staff created one display showcasing photos of some of Williamsbridge's youngest learners, framed by leaves under the headline "Pumpkin Spice & Everything Nice." One door in Williamsbridge's expansive K-12 and childcare space featured a paper-made tree and a thankfulness theme, while another displayed a quote by Ann Drake: "I can smell autumn dancing in the breeze. The sweet chill of pumpkin, and crisp sunburnt leaves."
Williamsbridge's newly built teen room featured the building's spookiest decorations, with a large spider nest in the corner, hanging orange and black lamps, bats on the walls, and caution tape crossed over bookshelves.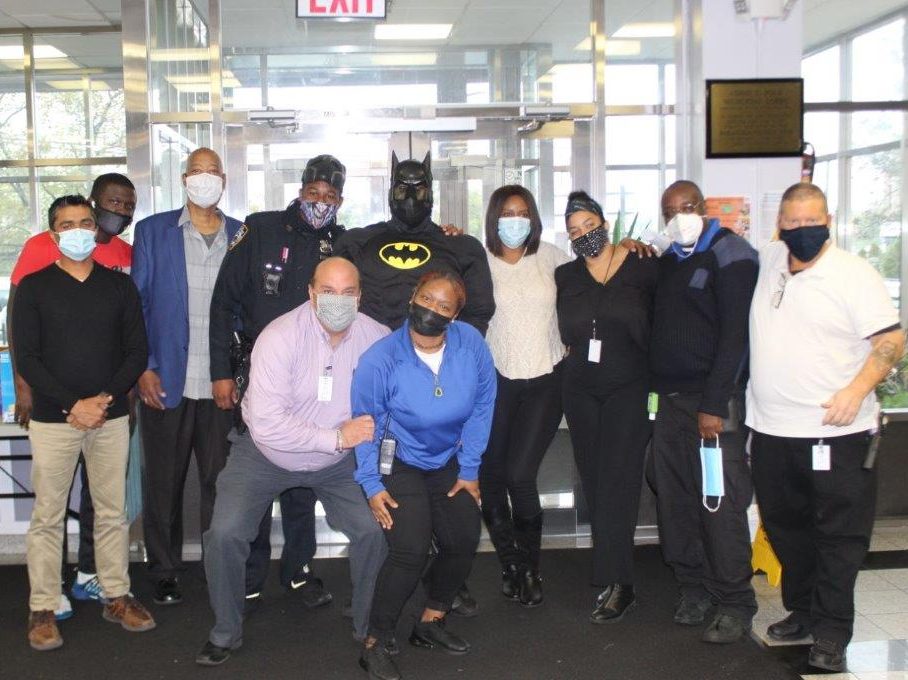 NYPD Visits Saratoga for Halloween Meet & Greet
Members of the NYPD's Youth Strategies Division, a subdivision of the NYPD Community Affairs Bureau, stopped by Saratoga on Halloween for a meet and greet with staff, students, and families. 
With two NYPD members dressed for the occasion as Batman and Black Panther, families received giveaways of fidget spinners, crayons, and orange and purple goodie bags filled with treats. Young Saratoga residents dressed as mermaids, spiderman, bumblebees, and ninjas, joined the officers for photos and candy.