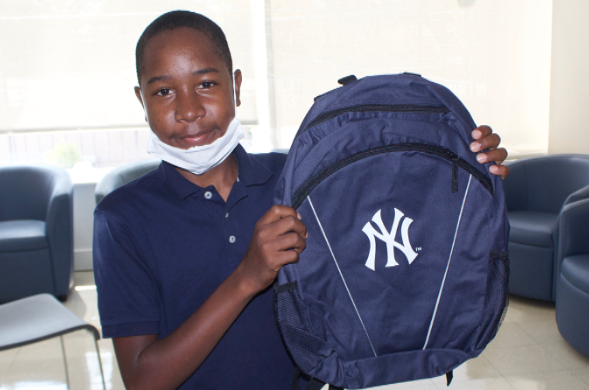 Every August brings a flurry of activity to children and parents at HFH, with a steady stream ofbookbag giveaways, end-of-summer soirees, and back-to-school preparations. In 2020, with the NYC Department of Education's announcement of a hybrid learning model, back-to-school season took on an added urgency at HFH, with both K-12 and Family Services staff adapting their services to meet families' needs.
In light of social distancing protocols, residence-wide back-to-school bashes have been replaced by small, socially distanced gatherings and virtual events to ensure that the critical milestone of a new school year is still celebrated. At the beginning of the COVID-19 crisis, when in-school learning and regular recreation and after-school activities became restrained or were canceled altogether, HFH staff stepped up to provide enrichment, tutoring, guidance, and plenty of learning and recreation supplies to families at all four residences.
While education and recreation staff focused on providing families with supplemental in-house programming, HFH Family Services staff set out to help families navigate their full-time back-to-school options, including understanding and enrolling their children in remote-only or hybrid classes for the 2020-2021 school year, accessing special needs services, and applying for enrollment in Regional Enrichment Centers, in-person learning centers intended for children of essential workers. Throughout the crisis, Family Services staff checked in weekly with residents about their children's education needs, making referrals when necessary to in-house providers. In the lead up to the 2020-2021 school year, Family Services staff ramped up their outreach to families, encouraging them to reach out to Family Services for help in everything from figuring out school bus options or getting MetroCards for transportation to school to how to deal with remote and hybrid options for children who attended different schools. This commitment will continue long after the school year begins.
Read our Q&A with Celina Rodriguez, Director of Family Services at Prospect Family Residence, to learn more about back to school at HFH.