"Inspiration, through all forms of art, encourages our students to express their inner selves and gain the confidence to show others who they really are. Their art expresses their lives, their feelings, their relationships with others, and their future lives that they wish to see. Inspiration encourages our students to break away from their fears and let the light guide them, not only through their art, but through their everyday lives. We are a community, a family, and we work together to encourage each other to be better, happier."
The Williamsbridge Wolverines have debuted the first edition of their very own monthly magazine called Inspiration: The Art of the Williamsbridge Wolverines. The artists and writers featured in the magazine are all students and staff from Williamsbridge's K-12 Recreation and Early Childhood Education programs. Inspiration's Editor-in-Chief, Stephanie Guzman, also serves as Williamsbridge's Education Coordinator.
Student Artists Range in Age from Toddlers to Teens
Inspiration showcases the diversity of interests, talents, hobbies, ages, and even languages represented amongst students in Williamsbridge education programming. From toddlers to teens, the students found the means for expressing themselves through art and literature, with the support and encouragement of program staff.
One page was reserved for students in Williamsbridge's Early Childhood Education program. Haiven, age 2, contributed a depiction of herself, her classmate, and their teacher, Ms. Veronica. Yelvin, age 2, was the artist behind another submission titled "Yo pinta," a collection of abstract scribbles in pinks, reds, oranges, and yellows.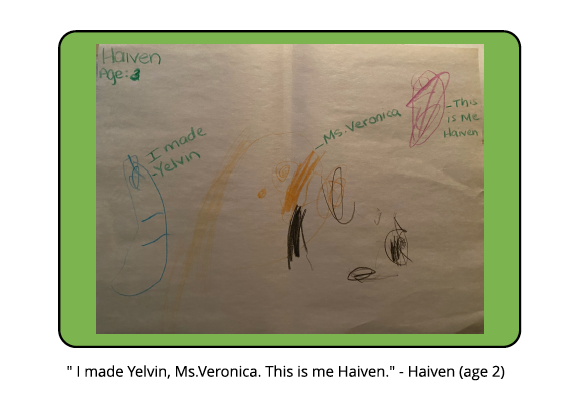 Rosa, age 14, was the oldest student to contribute, demonstrated her penchant for a writing with a fairy tale published in both Spanish and English. The first installment of "The Moon Princess" tells the story of a King and Queen who've just become new parents. The story ends in suspense with the discovery that the royal child and her family all have some sort of superpower followed immediately by Rosa's insertion of the line "TO BE CONTINUED."
If Everything Was One Color… & Other Themes
In many places, the students' work was guided by a common theme or concept. In one section, Elisha, age 7, and Larian, age 9, both wrote and illustrated a piece in response to the prompt, "If everything was one color." Elisha opted for red (it's his favorite color), but illustrated himself with multi-colored hair because, as he explains, he "always wanted colorful hair." Larian preferred blue, which is her and her mother's favorite color, and accompanied her description with blue hearts and a rainbow in varying shades of blue.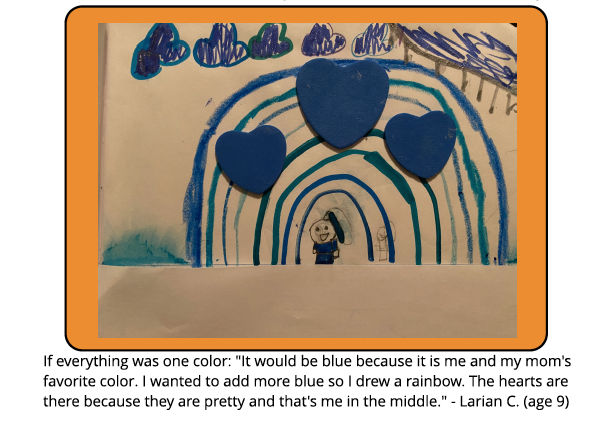 In another section, Jasmin Vaughan, Recreation Assistant at Williamsbridge, described what she would wish for if granted three wishes by a genie. Vaughan shared a page with Jenea, age 11, who enumerated in detail the reasons behind her wish to travel to Italy:
"If I could go anywhere in the world, I would love to go to Italy to try their food and to enjoy the art at the Uiffizi Gallery. I would also want to discover the Roman Forum. Italy's nickname is "Bel Pases," which means Beautiful Country. Rome is the capital city and was founded in 753 BC. Italian cheese balls are made from buffalo milk. Italian is a Romance language and derives from Latin."
Providing Families with Parent-Child Inspiration
Williamsbridge staff contributing to Inspiration placed a special emphasis on new programming and updates for parent. In one section, Bobby Valentin, Education Specialist at Williamsbridge, wrote about a nail tech class she taught to older students at Williamsbridge Recreation.
"After learning about proper application of gel polish using an LED lamp, I decided to bring the practice into afterschool. Originally it was a way for the older girls and I to bond, but it soon became a mini-lesson on nail techniques. You never know, we may have future nail techs in afterschool!"
In a Parents' section on the back page of the magazine, families had access to important dates and upcoming events, plus information on registering for Williamsbridge education programs and for HFH Summer Camps 2020 season. Staff also provided families with a suggested Parent-Child At-Home Activity: a make-your-own bubble solution using household items.